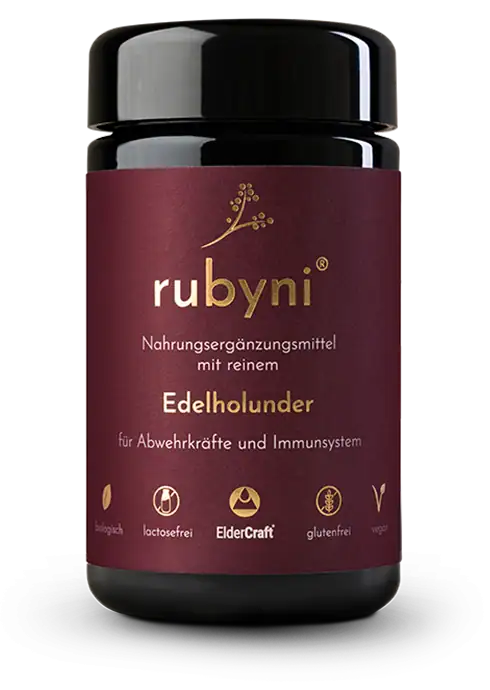 The plus for your immune system
rubyni® elderberry
One of the most important things for a healthy life is a strong and functioning immune system. In addition to a balanced diet rubyni® from elderberry is a natural alternative to support your immune system. Just one capsule of rubyni® from elderberry contains the power of at least 132 elderberries.
When taken regularly and daily, rubyni® elderberry contributes to the normal function of your immune system.
To support the immune system naturally
The good comes from nature
The immune system fulfills a variety of important tasks for our body. And you can actively support it with a healthy, sustainable diet. Just 1-2 capsules of rubyni® elderberry daily make an additional contribution to your diet. rubyni® elderberry contains 100% ElderCraft®, a highly concentrated and high-quality dry extract from black elderberries of the Haschberg variety. A single capsule contains the power of at least 132 berries. rubyni® elderberry is a purely organic (AT-BIO-402 EU agriculture) product without fillers such as maltodextrin and is very carefully produced from the berries of the Edelholunder of the Haschberg variety by a special and unique form of ultrafiltration without solvents or chemical additives. With rubyni® elderberry, pure in capsules, we do not add any other vitamins or similar, because only what is pure can develop its full power and effect. .
Per capsule 300 mg elderberry extract
Organic, vegan, lactose and gluten free
without preservatives
without chemical additives
without any fillers such as maltodextrin
Ingredients: Elderberry extract from the elderberry of the Haschberg variety, coating agent hydroxypropylmethylcellulose (capsule shell).
Food supplements should not be used as a substitute for a balanced and varied diet or replace a healthy lifestyle.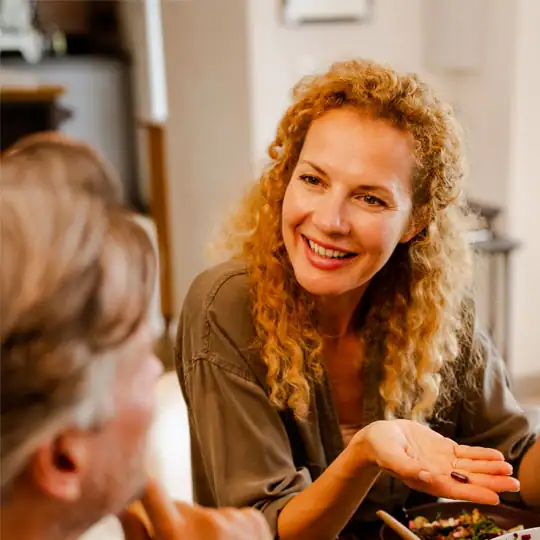 This is rubyni®
elderberry
The boost for your immune system
supports defenses
and immune system
Hochkonzentriertes
Holunderbeerenextrakt
one capsule contains 330 mg ElderCraft®
and is equivalent to 132 elderberries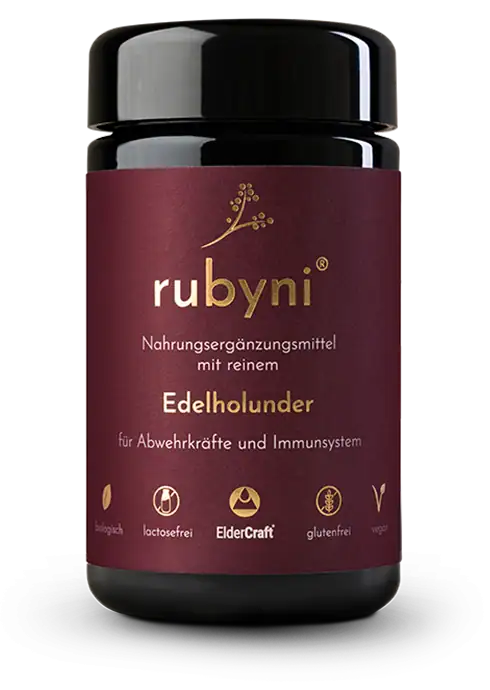 we take care that our elderberries
are grown and processed purely organically (AT-BIO-402 EU agriculture)
rubyni® contains berry extract in a plant-based capsule shell and is therefore absolutely vegan
we do not work with dairy products at any time,
so rubyni® is 100% lactose-free
without preservatives
rubyni® elderberry consists purely of 100% elderberry
also suitable for people with
Gluten intolerance suitable because gluten-free
From purchase to production
For the power of black elderberries
We have been processing fruit at the highest level for 100 years. We obtain our elderberry directly from more than 200 controlled farmers from Austria, Styria and Burgenland. That is why you get an absolutely pure product directly from the producer.
Partnership with cooperative
Completion and quality inspection in Italy, South Tyrol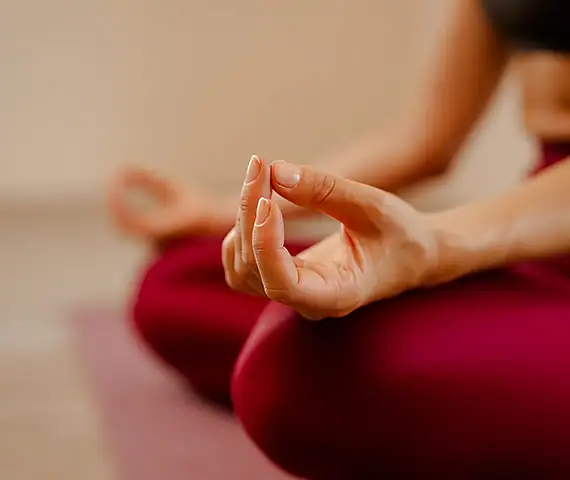 As a former professional athlete and health-conscious person, my physical performance and well-being are extremely important to me. That's why I take rubyni® with elderberry – it's now part of my daily routine. I am convinced of the positive effects of elderberries on my immune system, my energy balance and my fitness, especially during regeneration after periods of stress.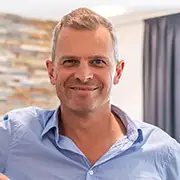 Tobias Angerer
Cross-country skier
I work as a nutrition and health consultant and am a trained phytotherapist. Transparency, sustainability, and quality are very important to me. And I have to say that rubyni® has completely convinced me as a brand. The capsules contain only extremely high-quality and natural ingredients whose effectiveness has been proven by studies and which supply the body with important nutrients. On my YouTube channel Ohlala & Solala I have published some videos about my personal rubyni® journey. There I share even more about what makes this supplement so special from my point of view.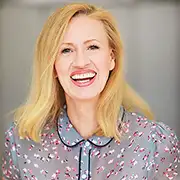 Andrea Sokol
Phytotherapist | Nutrition and Health Consultant
As a biathlete, I have to be in top shape and perform to the letter. I had big problems with that in the past. My body was always weakened and I had to accept many setbacks. When I was looking for a solution to support my immune system permanently, I found elderberries as a superfood through my alternative practitioner. In the meantime, I take rubyni® with elderberries daily. The capsules are also super handy when I'm on the road in the World Cup. rubyni® is a valuable help for me in stressful competition phases and my immune system is finally back on top.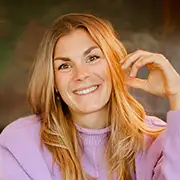 For more than 25 years, my focus has been on holistic, naturopathic medicine, with a particular interest in nutritional and biological topics. During this time, I have intensively studied current research findings (e.g. on orthomolecular medicine, epigenetics, nutrigenomics, phytotherapy). I found rubyni's philosophy of using total extracts with the complete efficacy profile of the entire fruit matrix exciting and convincing from the very beginning. That's why I was happy to take on the task of developing new products that would contain rubyni , but at the same time – in the sense of a synergism of effects – other ingredients for a specific purpose. rubyni® Visio now contains carefully coordinated ingredients that are specially formulated to meet the specific needs of the eyes. Valuable plant extracts and micronutrients have been combined to form a high-quality dietary supplement. This helps to maintain eye health and support vision.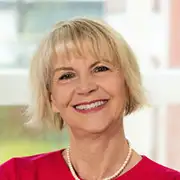 Prof. Dr. rer. nat. Michaela Döll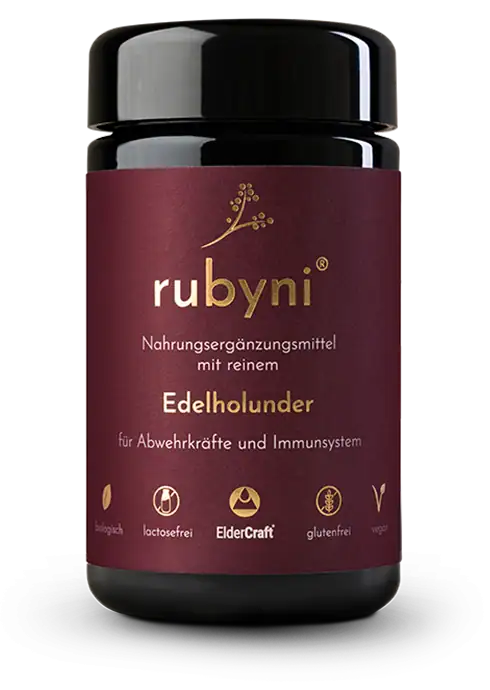 rubyni® elderberry
rubyni®, the daily plus for your body